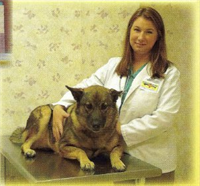 Dr. Young was born and raised in Akron Ohio, graduated high school in New Mexico and attended Colorado State University to receive her Bachelor of Science in Animal Science, a second Bachelor of Science in Biological Science, and her Doctor of Veterinary Medicine degree.
In school, her interests were exotic animal medicine (working with bears, lions, camels and llamas along with goldfish, hamsters and birds).  Fresh out of school, what better opportunity  to secure then employment with the Akron Zoo, Sea World of Ohio, along with a general practice in which they worked with dogs, cat, monkeys, tigers, and kinkajous.  As a new graduate, she was also working at a 24 hour emergency and specialty hospital learning from specialists in orthopedics, oncologic surgery, and internal medicine while training new interns in exotic animal medicine.
Having friends and family in Florida, and when her daughter was older, she relocated to SW Florida where she worked as a relief (prn) doctor in clinics from N Fort Myers to Naples and also nights in the emergency clinic.  Dr. Young eventually decided to open her own practice here in Cape Coral.  She works with dogs, cats, rats, bunnies, guinea pigs, ferrets, sugar gliders, birds, iguanas, bearded dragons, pigs, and the occasional cow and goat.
We encourage wellness care like routine dental cleaning, vaccinations, heartworm and flea prevention.  Our clinic is able to treat common illnesses with an in house surgery suite, in house radiology and in house laboratory.  We also call on a veterinarian who travels to our clinic, by appointment, to perform ultrasounds on our patients as needed. There are times when we do refer to a veterinary specialist who has more training, experience, equipment than what we are able to provide:  the ophthalmologist only does eyes all day, dermatologist only does skin all day, cardiologist only does hearts all day.
Dr. Young's special interests are wellness care, dermatology, behavioral medicine and pain management.
Our facility does offer grooming and boarding for our patients as well.
Dr. Young and all the staff welcome you to our practice!
Get in touch with our Team
Use the information below to get ahold of us.
Contact us any time
A caring member of our knowledgeable staff will do their best to respond to your inquiry as soon as possible. If you are experiencing an emergency, please call us.
The communication methods below are monitored during our facility's regular business hours.
Phone: 239-574-8028
Email: capeveterinarypractice@aol.com